If your personal workspace is on the Pro plan, or if your team workspace is on the Business plan, you can get VAT exemption for your payments made directly via our site.
VAT exemption is only possible for payments made in EUR, DKK, SEK, or GBP, for companies that are registered in European Union or the United Kingdom.
Add your VAT ID when upgrading
You will have the option to add your VAT ID directly when upgrading:
On the upgrade page, fill in your email address and your card details for the payment.
Select I'm purchasing as a business.
Enter your VAT information.
Your price will have 0% tax and your invoice will have a Reverse charge indicator.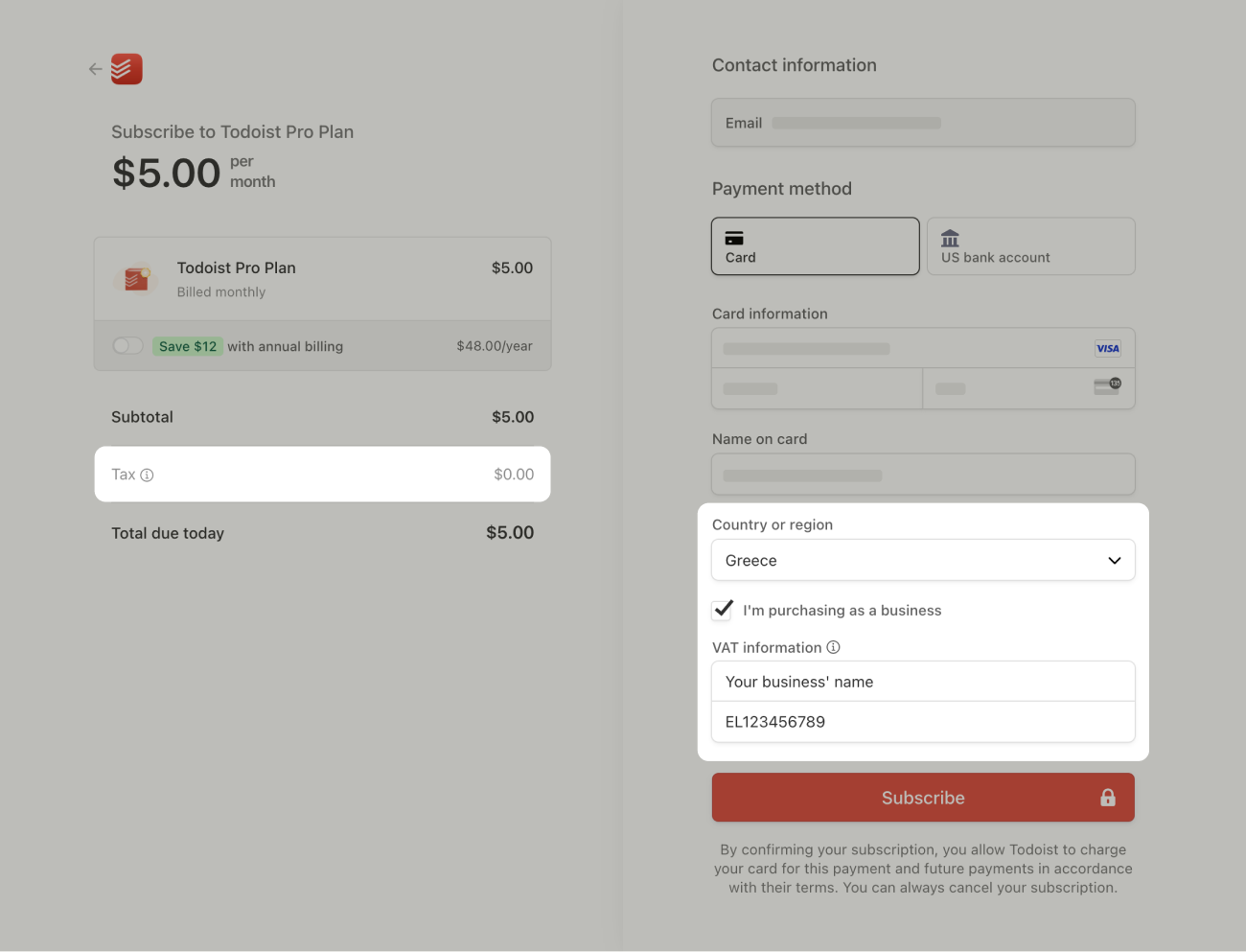 Add your VAT ID for an active subscription
You can add your VAT ID and get a VAT-exempt invoice for future payments anytime.
All you need to do is add your VAT ID and the associated address to your account before your next charge. Here's how:
Log in to your Todoist account at https://todoist.com. 
Click your avatar in the top-right.
Click on Settings.
Go to the Subscription tab.
Click on the button Go to billing.
Under the section Billing information, click on Update information.
Add your billing address and your VAT ID.
Click on Save.
For the Business subscriptions, only the admin can add or update billing information.
FAQ
To receive a VAT refund for a store purchase, please contact the appropriate vendor. Unfortunately, we are not able to process VAT refunds for purchases made through the App Store or Google Play. 
If you did not provide a VAT ID prior to being charged and require a VAT-exempt invoice and refund, please contact us. Don't forget to add your VAT ID before your next payment is due!